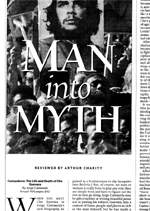 Companero: The Life and Death of Che Guevara
by Jorge Castaneda
Knopf; 456 pages; $42

Reviewed by Arthur Charity (Ottawa Citizen, January 1998)

WHEN YOU MEET Che Guevara in Jorge Castaneda's new biography, he is already dead, laid out like the soon-to-be-risen Christ on a makeshift table in the laundry room of a rural Bolivian hospital, while a photographer snaps pictures that will soon become icons in college dorms, political discussion cells and poster shops around the world.

This is cutting to the chase in a major way, but one that's strangely fitting for someone like Che, who's remembered less for his accomplishments than for a sort of flesh-and-blood argument he came to embody equally well as man or corpse.

A few years ago, while I was living in New York City, I used to visit a place where this argument was still very current: the Revolution Bookstore, on 15th Street near Union Square, which was, thanks to the odd sideroads where proletarian solidarity takes you, also the best place in Manhattan to find novels by African writers. A banner of Che, in battle fatigues and beret, hung out over the sidewalk, defiant, dedicated and, above all else, certain.

The clerks inside, mostly women in their 30s with greying ponytails and hard lines on their faces, had a habit of speaking on all subjects in a sort of poli-sci shorthand. "Typical petit-bourgeois response," they would say to an article in the Times lying open on the counter. The last time I visited they were on about the Peruvian government's harassment of Shining Path, which, from everything I knew, was the most indiscriminately brutal guerrilla movement in the world after the Khmer Rouge. "The Party's gone to hell," one said, "refusing to seat delegates who support the Path. The true revolutionaries." Over the counter she had posted a fax number for Peruvian president Alberto Fujimori and was encouraging customers to use it, to demand he let the Shining Path's leader out of prison.

It was an unlikely form of pressure ("Greenwich Village is against us. We'll have to let Guzman go") but then, in the Republican 1990s, doctrinaire Maoists were a less likely group to find in Manhattan than Trappist monks. They were living fossils. But the women were immune to argument, insulated from the world by their dogmas. Why should they doubt the truth of their cause? they might have asked. Look out the window. There's no doubt on the face of the Argentine-doctor-turned revolutionary, the conscience of the Cuban revolution, the man who gave his life for the proletariat everywhere. Che knew what was what.

Che Guevara always did look like a man born, not just to his role, but even to his wardrobe. (It's unsettling even for a non-Maoist to see him in a few of the book's photographs, looking almost at home in dress shirt and tie, clean-shaven, disguised as a businessman to slip incognito into Bolivia.) But, of course, no man or woman is really born to play any role; they are simply born and have to figure out the rest as they go along. Jorge Castaneda may be gifted neither at writing beautiful prose nor at putting his subject, Guevara, into a context of times, people and places as rich as the man himself, but he has made a great leap forward over other biographers in simply showing that there was an Ernesto Guevara, the son of a very ordinary upper-middle-class Argentine family, who existed before the myth, before the destiny, before there was ever a Che.

Had this man's biography been written, say, at age 26 in 1954, Ernesto would have seemed an unformed but promising, earnest and usually disheveled youth; what in North America we would call a rebel without a cause, a typical baby boomer before all the baby boomers had hardened into yuppies or burnouts or people just like their parents. Being housebound with asthma had turned him into a great reader, but though he absorbed many ideas and isms (including Marxism), none became a passion. He had early on planned to become an engineer, but lost interest and drifted into studying medicine and, once he had become a doctor, didn't know quite what to do with himself and seldom practised. Most striking of all, he was so utterly uninterested in politics that he wrote and said almost nothing at all about the social transformation being wrought all around him by Argentina's new populist dictator Juan Peron. He was all temperament and no direction. But he did have one great gift: Unlike many of his peers, he was instinctively egalitarian, able to see the poor and downtrodden that the comfortable and affluent seemed to find invisible. Ernesto felt no one was above him or beneath him, which makes him - looking back at this time before he knew what to do with what he was - an inordinately appealing man, the kind you pin your hopes on.

His turning point came that year, 1954, when, during a long stay in Guatemala, he met two Cuban exiles who would within a short time lead him to the man who would become his great friend, partner and contrast, Fidel Castro. Ernesto at the time was toying with the idea of becoming a doctor in a leper colony, when the alternate idea arose that he might join this colorful group of self-described Cuban revolutionaries. It is almost a mystery why, after hemming and hawing as he always did, he chose the second destiny instead of the first, but once he had made his pledge, a transformation came over him. He had found his substance, his purchase on the world; he had quite literally stumbled into something important to do. And so he did what most of us do at some point in our lives, to a greater or lesser degree: He began to fit himself to the image of the life's work he had happened into.

Having fallen among Marxists, he became one himself, with a vengeance. Politics suddenly seemed central to all the great questions as it hadn't before. His dishevelled dress became a statement of solidarity with the campesinos (though, in his later years, the campesinos would often be more hygienic than Che). His egalitarian instinct, which might have matured into compassion as a healer, turned into planks of dogma about collectivism and the "new man" that would be produced under socialism. Gradually the coat he had fit over himself became more real than the man underneath it, and the mystery of why the sensitive doctor had become a revolutionary didn't seem like a mystery at all. The happenstance of meeting Castro became a magical story of Che's gradual, inevitable political coming-of-age; the accident of picking communism became the iron logic of Karl Marx's (and Lenin's and Stalin's and Mao's) socioeconomic analysis. Ernesto was gone, and Che had taken his place.

After Che, Castro and the rest of the revolutionaries returned to Cuba, it quickly became obvious Che had a gift for guerrilla fighting: He was brave, remarkably disciplined, and his innate respect for the poor made his troops popular. His choice and all the dogmas he was beginning to wrap around it had proven good and true so far, and probably convinced him they were true for all time. But no theory is flexible enough to fit the mishmash complexity of the actual world, and, from the moment Castro's ragtag army marches victorious into Havana in 1959, this becomes obvious to anyone reading Castaneda's biography, though - and here is the great tragedy of the man who loves theory too much - it never became so to Che.

It was he and Castro's brother, Raul, who persuaded Fidel, for reasons more ideological than pragmatic, to put Cuba in the communist camp, which ended up driving thousands of talented bureaucrats, bankers and business people to a rich and politically angry exile in Miami. Always the purist, when Che was put in charge of the Cuban economy, he tried to industrialize it overnight, succeeding only in running it into the ground and making its eventual reliance on a benefactor like the Soviet Union inevitable. Sent abroad to make friends for the new regime, he proved stunningly naive, seeing revolutionary situations where none existed and mistaking anyone who claimed to be anti-imperialist or socialist for an ideological and practical ally.

After the Cuban missile crisis, he was furious with the Soviets for not using their missiles on the United States while they had the chance, even if it led to a general nuclear war. A more emotionally grounded Russian diplomat suggested to him that "there will come a time when we will show our enemies. But we do not want to die beautifully. Socialism must live." Che wasn't convinced. Before too long, he and Castro both came to realize he was in the wrong line of work.

Having fought one guerrilla war well, Che decided his destiny lay in exporting revolution around the world. Castro, the pragmatic clinger-to-power, humoured him. In 1965, he sent Che and a contingent of black Cubans to the Congo to train and fight along with Laurent Kabila's guerrillas, but, in a cruelly funny twist of fate that ought to have taught Che a lesson, when the fighting actually came, the Congolese simply fled. The Cubans aiding the rebels were left to face the white South African mercenaries aiding the government: two foreign armies battling by proxy for masses that didn't sufficiently care.

Within two years, however, Che was back in the jungle of another country he didn't know - Bolivia - underequipped, underfunded, trying to jump-start a revolution with a guerrilla force that was ill-trained and at best half-committed. His personal history as a revolutionary, which had begun in Cuba as heroism, then repeated itself in Africa as black comedy, now at last descended into pathos. The Bolivian campesinos wanted revolution so little, they would voluntarily report Che's movements to the army as soon as he had passed through their area: a fact to which revolutionary theory had made this once-observant man utterly blind. And in October 1967, CIA-supported Bolivian troops captured and then murdered him at La Higuera.

This is where Che Guevara's certainty took him.

It would be a waste of a good cautionary tale, however, to use the blind alley of his life simply to sneer at the living fossils in places like the Revolution Bookstore in New York. Communism is dead (even in Cuba, where it is dead but still walking), its particular stupidities obvious. And it's easy and trivial to rail yet again at things, much like McCarthyism and Adolf Hitler, that nearly everyone already agrees are bad. Besides, Che's great crime wasn't embracing communism per se, but letting it stunt him. In that respect, there are living, thriving, multiplying Ches around us today, even though the gods they embrace too early and too thoroughly are no longer Marxism and proletarian struggle.

Two doors down New York's 15th Street from the ponytailed Maoist clerks sits the Union Square Cafe, one of the priciest restaurants in the city, where the three-piece-suited and well-heeled - the victors in the Reagan Revolution - go for power lunches. Over the talk of improved business climates and welfare reform, the iron logic of conservatism and the magic of the marketplace, it's impossible to hear the bustling street life outside.

Yet on any given day that life is fermenting, evolving, contradicting itself the same way it does in Havana or Moscow, or Ottawa. People crack the air with laughter; others cry bitter tears to sympathetic friends. Married couples browsing the expensive shop windows fret that they have too little time for their children.

On the corner, a beggar who might be a hustler, or a good man whose bad luck has robbed him of confidence, or the victim of a social malady, asks, "Can you spare some change?" and passers-by finger their pockets, never sure what's the right thing to do. To their dismay, their theories desert them at the touch of the real world.