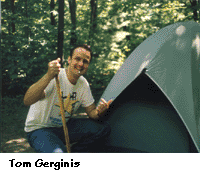 At the Palm Court
I flew up to Toronto a few weeks ago to usher at the wedding of an old friend, Thomas Gerginis, a man with a truly rare gift for enthusiasm. I had first encountered him seven years ago at Columbia University here in New York, when Andrew, my soft-spoken dorm neighbor, told me to meet him one evening at a tiny room on the fourth floor of International House.
I threw open the door to find a tall man in shirt and tie screaming out James Brown lyrics and dancing a conga-line all by himself. Andrew, who was cramped up against the desk, told me, "This is Tom. Isn't he great?" I wasn't at all sure.
Slowly, though, I began to see the greatness. Everything Thomas did, he did as if he had learned absolutely nothing from experience - as if the world was new. He did not know how to be blase or cynical. He took his concepts of romance, adventure and style straight from the movies, and invested them with such sincerity that even jaded bystanders were often caught in the glow of his belief.
He is, for instance, the only man I know under 40 who can sing along to Frank Sinatra - even the swing version of Mrs. Robinson - without the trace of a smirk. At Columbia, when he fell improbably in love with power politics, he began to carry himself like a diplomat and, full of moral fervor, quoted passages from Zbigniew Brzezinski and Henry Kissinger that would have sounded like tired cynicism coming from their own mouths.
Once, feeling the need to "experience his masculinity," he even talked me into going camping. I had camped before; he hadn't. His younger brother summed up the family's shock by saying, "In the woods? Thomas? Are you kidding?" But because he believed in what he was doing, he lived the weekend like a chapter out of James Fenimore Cooper, undaunted by the fact that our campground had a washer and dryer, and that we spent two hours each day at a donut shop in Penetanguishene.
His most special gift was for romance. He adored each woman he went out with, however ordinary, as if she were the one true Venus - writing love letters and leaving off red roses on the flimsiest of occasions. When he finally found a woman he had the sense to see was worthy of his imagination, he took her out to their favorite restaurant, then to a jazz club at the Royal York, proposed, and had the band play their favorite song as the engagement was announced.
The wedding itself had the same wonderful feel of a 1940s movie, down to the sleek black tuxedos and cigars on the veranda that made frumpy Canadian stock brokers and journalists feel like extras backing up Carole Lombard and William Powell.
I bring up Thomas here because, like me, he adored New York City, especially at this time of year. Manhattan in December is the most romantic place on Earth, for anyone who has the eyes to see it. Giant snowflakes cast their blessings down onto Fifth Avenue, as the great equalizing crowd draws you in past the whimsical shop windows and the twinkling lights on the trees, the vendors hawking roast chestnuts, the hansom cabs with their horses snorting cold weather, on and on to the center, the apex – the glowing white oval of the skating rink at Rockefeller Center, always bright, open to all, always circled by smiling people, like a Christmas carol come true. There you're as likely to hear, "Isn't it a beautiful night?" from a street hustler as from a woman in furs. And you're all the more likely to believe it, for the same reason.
The jazz clubs are packed down in Greenwich Village, the saxophones drift languidly into the streets; children stare open-mouthed at the six-foot toy soldiers in F.A.O. Schwarz; wreaths and menorahs are up in every apartment lobby. The forests of Central Park, dark at five o'clock, their tangles of branches black against the night sky, for once make you think of fairies instead of muggers. And the doormen in their livery stand, as always, on the square outside the Plaza Hotel as overcoats and evening dresses sail past them to the Palm Court and the Oak Room, where Cary Grant stopped for drinks in North by Northwest, and where he stops for drinks in spirit every evening, if only you have the eyes to see.
When Tom and I were at Columbia six years ago, soon after I met my own wife-to-be, we hit on the idea of spending New Year's Eve at the Plaza. It seemed like the ultimate New York thing to do. Jennifer would fly down from Ottawa; Tom would bring his then-girlfriend, Liz.
I was a more carefree romantic in those days myself, so on Dec. 31, I put fresh carnations in my coffee pitcher and champagne in the fridge before going out to meet Jennifer's plane. She, not to be outdone, had packed a runty metal Christmas tree and a string of cheap lights in her suitcase. We danced on the subway platforms to a busker's accordion. Later, the four of us, dressed to the nines, told the taxi driver to "take us to the Plaza," and there, among the linen tablecloths, white gloves and palm fronds, we drank whisky sours and danced to Sinatra until two o'clock in the morning.
The night was liquid. Other couples swirled around us. The band played smooth and sleek, to match the confidence of our moment. At midnight, as we blew on noisemakers and sang "Auld Lang Syne" with two million people all over the island, I thought this had to be the most elegant evening of my life.
But times change; or we do. Things look different as we grow older. We learn to judge what we once took for granted. New Yorkers even cultivate the habit and call it sophistication. Thinking of the Plaza as this New Year's approached, I looked up the Palm Court in my Zagat's restaurant guide only to find what I took for elegance dismissed as "the ultimate in kitsch."
And I can see the truth of that. The band, despite its rented tuxes, acted like it would rather have been playing rock down in SoHo. We all looked ill-at-ease in our formal wear - except Thomas. The other couples that night were mostly elderly, or strangely unsuited - rich women, slightly too old or too plain, who had brought stunningly handsome men as dates. They would speak of each other with a distant self-consciousness that meant they were not in love. A knowing smirk. This was all so much pretending, for them.
Sometimes, when I look, I can see this city drowning in all its sophistication. An impressario recently reopened a classic nightclub from the 1940s, El Morocco, as a "tasteful" topless bar - the new wave, the papers say, for clubs in the 1990s.
He replicated everything the postwar crowds had taken for high class, down to the famous zebra-striping on the walls, but I couldn't imagine any New Yorker taking it seriously today. Somehow we have all aged, young and old. Young girls could not swoon anymore as Frank Sinatra sings Witchcraft. The crowds at the Macy's Christmas window could not easily see past its commercialism. Frank Capra could not bring Mr. Deeds to this town, nor could William Powell make a speech for the Forgotten Man - perhaps Cary Grant couldn't even feel at ease in the Oak Room - because the belief has slipped away.
There are certain experiences we can only have if we believe in them, if we are not so distracted by the impurities as to lose confidence in the gold, and now I see things so clearly I can hardly see elegance at all.
Once I was much less hard to please. I did not even have to go to the Plaza to find elegance; my definition was as broad as the ocean. When I was nine years old, my father and I drove from Los Angeles to Monterey, California, for a quick vacation. He showed me Cannery Row, but I had not read Steinbeck and couldn't see the beauty in an old dump. We went to a Clint Eastwood festival at a drive-in. But most important to me, we stayed one night at the Cypress Gardens Motel. I had insisted on it, once I saw the listing in our auto-club tour book. The name sounded famous, and a "Continental breakfast" came with the room. I did not want to pass up the chance to stay in such an elegant place.
In the event, our room was carpeted in fire-engine red plush, with candy-striped wallpaper and lamps made from plaster nudes; the breakfast was two packets of instant coffee and a stale roll; and when I walked into the gardens, all the little stone pathways led to the same granite square in the grass, which read, "Here lies Butch, beloved dog." My father squirmed, much as I would today. But what did I know then? The world was new. I drank it in; I was happy. If the place was tasteless and tacky, I gave it elegance with the power of my belief.
In those days, I also believed in the basic goodness of other people's hearts, because I saw the basic goodness in my own. I believed that friendships lasted forever; that no problem was beyond a solution; and that the world was my oyster, ready to give me as much happiness as I was willing to reach for. I treated other people with all the optimism my naivete gave me, and the way they treated me in response just confirmed what I knew. I do not believe in a lot of those things anymore, though I can't give you a precise reason why. They have just grown harder to satisfy, like my idea of elegance has, as the world has grown old.
Jennifer and I haven't made plans for this New Year's Eve. We will do something on the spur. Maybe go to Times Square, if the crowds aren't too daunting, or to a jazz club down in Greenwich. I find it hard to pin down what would be the ultimate New York thing to do, anymore... and I half-wish that Thomas were here, because I'm sure he would know.