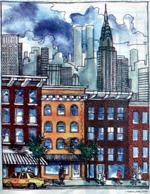 Cousin Mary
Back when I was seven or eight, my favorite cousin was Ed, an Army private then about 24 years old who did a perfect imitation of Donald Duck on warm California evenings while Aunt Florence cooked dinner. As I grew older and my needs changed, though, the star passed to Mary Treatman.
Mary was born and raised in Brooklyn, on an old avenue lined with gas stations, fruit markets and pot-bellied Italian men sitting on chairs dragged out from their storefronts. She had gray hairs and two kids already by the time I met her, though she was still in her early thirties, and had passed through an entire life I had only heard about in Christmas letters and postcards from White Horse Beach: the prettiest of three sisters, a nursing student, a single mother, a black sheep in the older generation's eyes and a rebel in mine. She had gifts that were all her own, but she also had in every gesture and spoken syllable the gift of New York.
You can only say so much about a city by talking about its skyscrapers and parades, political contests or role in World War Two; they are just bits and pieces, all trivia, except as they're transformed in the black box into the life of a human being. There are times when I can't quite grasp what I think of this city, when it is all too incoherent to adhere to a single name or adjective, that I can suddenly hear it summed up in the sound of Mary Treatman's voice. Charles DeGaulle was on to something deeply true when he said that he himself was France; myself, I suppose I am California, because I'm what California does to you. In the same way, Mary is New York.
For a long time I knew her only peripherally, in frantic car trips across Manhattan from train stations to airports to her parents' place in Borough Park, invariably with one too many children or pets or suitcases stuffed next to me in the back seat. "So, Mitch: good to see you again" - like all my cousins, she calls me Mitch – "how do you like New York now that you've had 20 minutes to see it? Planning on doing this again? Hooooo." The hooooo was her primal sigh at the impossibility of life ever fitting within its boundaries.
Later, when I got back from the Peace Corps, we would talk on the phone every couple of months, friendly strangers trying to get acquainted. I think we would mean just to say hello, but almost by reflex our conversations stretched on into hours, which left Mary's taciturn husband, the doctor, sitting by the telephone table in awe. "David's been timing us, Mitch," Mary told me once. "He says the last time we talked for four hours. He wants me to ask you how anyone can just sit and talk for four hours." Myself, I couldn't say. We simply both had the Justice family gift, evolved generations ago there in Brooklyn, of being able to whip everyday stuff into a kind of intelligent souffle, at once warm, nutritious and forgettable.
At last, in the fall of 1986, my cousin's orbit and mine aligned for three entire months. Mary and David had bought a house, an old frame fixer-upper deep in Bay Ridge near the Fourth Avenue subway; everything that had been crowded into boxes and closets and wardrobes in their apartment spilled out and grew sloppy in the freedom of all that space. The first time I visited, it was all paint cans and varnish and papers and piles for goodwill, and then as that was cleared away, it was children's books and gameboys and dishes and stray clothing. I meanwhile had finished journalism school. I spent my days hunting jobs with growing desperation, or working odd weeks at various magazines, and my nights hinting around to friends that I'd soon need a cheap place to stay. Mary said casually, "why not come stay with us?"
Thus began one of the charmed epochs of my life. I would come home around seven with soda and linguini from the Italian take-out shop on Fourth Avenue, and sit with Mary in the kitchen watching chaos evolve around us. "I hope you don't mind a mess, Mitch," she apologized almost daily. "Of course, if you do mind a mess, I'm not sure there's anything we can do. Hooooo."
David, who was juggling two-and-a-half general practices at the time, came and went at erratic hours. The kids (now three of them) were always busy, too, and all in different directions – Chad with the violin, Cara with gymnastics, little Charlie with anything that promised to be both interesting and destructive, in the way of precocious two-year-olds.
The most familiar sound from those months was the jangling of car keys, as Mary dashed off to drop one or another of the kids to practice; she had always felt deprived by her strict Catholic upbringing, so she plunged headlong into making her own kids active and independent-minded, with a vehemence her parents would have recognized even if they didn't recognize the goal.
She enrolled them at the best, most expensive, most secular school in Brooklyn Heights, then got herself hired there as a teacher's assistant, partly to pay the bills and partly because she was hungry for a challenge. At times like these it was hard to tell whether life was driving her so relentlessly, or whether she was in the driver's seat much of the time herself.
Little things happened in those three months, too, that would have become big if there'd been time enough to let them. While cleaning out the attic, Mary started finding bizarre clues about the house's former owners, including a diary in a tight little scrawl with page upon page of entries like, "12:20 p.m.: Looked out the window. 12:22: Looked out again; nothing changed." Mary rolled it around in her mind for a day or two at most. "Do you think I'm being unfair, Mitch?" she asked me almost somberly, "because this doesn't seem normal." The Catholic schools had left her perpetually unsure of herself, even with solid instincts like these.
The word that best describes the mood of Mary's house has to be "impending," as in "impending trip," "impending errand," "impending doom" and "impending victory." I know Mary felt trapped at times - I felt trapped, just watching her trying to ride this whirlwind of activity. But there were moments there in the kitchen, evenings when she resigned herself to never being in control, that a stolen minute stretched out majestically into one of those four-hour-long talks, not because the time was really there but because nothing chanced to interrupt, and at those moments she seemed to me to shine with a rueful sort of grace, lifted above all the sound and fury like a weightless angel on a cake. "Ah, Mitch," she would say, "I dunno, I dunno, I dunno." And then, with a laugh, her cosmic hooooo.
Well, I got my job, found an apartment, then a wife and finally my way out of New York City. Mary and I were in very poor touch for the next several years. When I looked her up last fall, I found she'd moved out of Brooklyn altogether. She had found an excellent gymnastics program for Cara in Allentown, Pennsylvania, and driven her there-and-back until, she told me apologetically on the phone, "the three hours on the road every day just got too hard for me to do." So she and David had bought a house.
I have to admit, one of my first thoughts was purely selfish: that Mary Treatman had no right to leave New York, both because that's where I was and because that's where she belonged. I wondered if she would lose the aura that had always enveloped her, that Brooklynite's way of thinking; if she would become laid back, small-town, or whatever it is you become when you become what Allentown does to you.
I teased her for moving so far out into the sticks, so far from civilization, at which she said something that reassured me she would always be Mary. "I think you've got the wrong idea about Allentown, Mitch. Allentown is a city." I thought of all the things I associated with cities from studying Latin at a California high school, while dreaming of New York, Paris, London and San Francisco: busy streets, intellectualism, drama, skyscrapers and jazz music. But Mary said only, "Allentown has crime."